Two weeks ago, a programme on BBC (Horizon: Feast To Save The Planet) featured 5 celebrities trying to make the most climate-friendly menu choices in a restaurant under the watchful eye of Greg Wallace, Mike Berners-Lee and Hannah Fry. If you are interested in managing your own carbon footprint it made for fascinating viewing, and it's still available on BBC iPlayer. The asparagus starter proved a shocker for vegan Sarah Pascoe because it had been flown in to the UK, being out of season here, racking up a huge footprint.
Meanwhile, many of us already know that eating steak rather than a vegetarian alternative has a significant carbon impact, and this programme did a great job of highlighting that. Some of the choices seemed quite obvious, but other areas were more nuanced. A dessert featuring raspberries, also clearly out of season in the UK, was not nearly as harmful as it might have appeared because the raspberries were British and had been frozen, thus making them way less damaging than imported fresh alternatives. The cheese board was not great, but the impact of different cheeses varied a lot, with soft, locally made cheeses faring far better than imported hard cheeses that required many more litres of milk to produce and then of course had to be shipped to the UK.
All this is very interesting I hear you say, but where do the supermarkets come in? Well, the programme pointed out that Mike Berners-Lee and his like are campaigning to get products labelled in supermarkets with a traffic-light system to highlight the carbon footprint of different products, but clearly, this is still some way off. Getting all the products accurately assessed to a recognised standard, agreeing on the labelling system with retailers, agreeing with food producers how to display the information on already crowded packaging, all this is, unfortunately, going to take time, arguably too much time when we are fighting a climate emergency where consumers need to be making better informed choices.
So what can be done in the meantime? Well, some of the rules of thumb are fairly simple. Locally (ie. UK) produced meat or fruit and veg are going to have a much smaller carbon footprint than imported alternatives, especially those that have come by air. The same goes for things like beer. Yet it is not always easy for consumers who are in a hurry to pick these out, especially when they have become used to seeing the same products on the shelves all year round regardless of the season. When are strawberries and raspberries in season in the UK and when are they coming by truck from Southern Spain or Morocco? Has the beer you buy been brewed and bottled in the UK even though it is a brand with foreign heritage?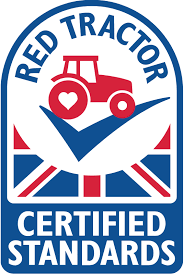 If only there was an easier way to tell! Some supermarkets already take steps to highlight the country of origin as British, with Aldi, for example, making it clear that all their fresh meat comes from British Red Tractor farms by putting the red tractor symbol and the union jack prominently on the packaging. However, maybe there's an even simpler way of doing it.
Aldi uses the Red Tractor symbol to communicate both quality and local provenance to consumers.
When you shop for wine in most larger supermarkets, you will find bus stop signage helping you navigate around to find wines by colour and then by continent or country. Why not have something similar in the fresh produce areas helping you find fruit and veg that is in season and grown in the UK? And extend it from the wine aisle to the next-door beer aisle? Up to 90% of foreign lagers are actually brewed in the UK, but how do you know if your favourite is one of them? In fairness fish and meat are usually more obvious with the country of origin often proudly proclaimed in the product naming. Fresh fruit and veg that is packaged will have the country of origin on, but how many have the time to look that closely and given that thankfully more and more is being displayed without packaging, some simple signage could help those trying to make good decisions.
I am sure many of you are thinking that it's obvious that you can't buy British raspberries or lettuces in January, but when are the first ones available? Are the courgettes you're picking up British-grown or imported? What about the mushrooms? And can I really buy British carrots and broccoli all year round? As for the dreaded asparagus, we know we can get it fresh from UK farms, but when exactly and for how long (I'll tell you – April to June)? Meanwhile in the frozen section you'll often find it impossible to tell where your frozen strawberries or cauliflower florets have come from.
So, there's my suggestion, supermarket retailers can do their bit right now and help us make carbon-friendly shopping choices with some clear signs to show us what is UK and seasonal and what's not from the fresh produce section through to frozen, from beer to meat. It might not change the world, but it's a start.
Neil Russell-Bates, Hilltop Sustainability
See my original Linkedin article here.
If you'd like help working out how to make climate-friendly choices for your business, the author, Neil Russell-Bates, is a founder member of Sustaineers Consultants and is experienced at calculating business carbon footprints and advising on carbon reduction strategies. Email Neil here.